Sleep Learning
Facts and Myths
Sleep learning is a technique that helps you harness the power of your subconscious while you sleep. When practiced, it facilitates the learning of new skills, foreign languages, new concepts, and several other self-help  improvements that you may want to implement on a particular area of your life.
Sleep learning -also called hypnopaedia– is not a new concept. In fact, it dates back to the 1930's and it became more known after Aldous Huxley's 1932 novel titled "Brave New World", a fictional story of a Polish boy that was able to recite an entire radio broadcast in perfect English after a radio receiver had been left on during his sleep.
Novels aside, sleep learning has been highly debated and associated with ambiguity mainly because there have been conflicting theories about it. So the question remains… is it really possible to absorb information as you sleep? Can you truly learn new concepts, enhance your memory and learn by utilizing your mind's full potential… all while you sleep?
Between 1955 and 1968, several studies indicated that it is very possible to learn during sleep when these 3 factors are in place:
The suggestions are aligned with the intention to reach a certain goal. This can be done successfully through subliminal messages.
The suggestions are received at the right time; during the REM sleep episodes of wakefulness that occur throughout the night or during alpha wave activity (alpha patterns are a normal part of REM sleep, they induce a semi-arousal period offering an optimal opportunity for learning), and…
The individual fully agrees with the suggestions and intention to participate.
Because of this findings, it was determined that hypnopaedia can be successfully used as a secondary learning method that supports daytime learning. It also seems to increase the speed of learning during daytime hours, a very useful skill for High School students and working adults alike.
In more recent studies, sleep has been associated with learning and memory enhancement. Sleep learning seems to hook procedural memories, which aid in learning new skills. It is thanks to procedural memories that you can master a tune on the piano, a chess strategy or a video game.
Thus, the answer is… yes, sleep learning is not only possible, but very helpful; however, there are some myths that need debunking before we proceed.
Here are the two main misguided beliefs about subliminal sleep learning
It won't introduce knowledge directly. It won't work by implanting information and facts into your brain like if it was a tape recorder. In other words, don't expect to wake up speaking French if you have never studied it before. Conscious learning must take place during waking hours for sleep learning to work as an enhancer. Only then, it will help you take in data easier and faster.
It doesn't work overnight or immediately. Like many other things that must be learned, practice makes perfect. It is a process in which the message sinks into your brain slowly as you listen often. With each session you become more sharp-witted and focused as your ability to learn starts improving until you absorb information quicker and more naturally.
The Benefits of Subliminal Sleep Learning
So now you know it. Sleep learning is not magical, mysterious or miraculous, and it's certainly not instantaneous either.
However, more people are using it successfully as they learn about it. There are many reasons why it may be a good idea to engage in this kind of learning. Here are a few of them:
It is 100% non invasive. When used as indicated, the messages sink into your mind effortlessly while you sleep. This makes it easy to use where no additional action is needed from you. This is attractive for many as their lifestyle and routine doesn't have to change. You can play the album at night and won't interfere with your normal daytime activities.
You will experience gradual transformation, and it will support the actions you take.
It will facilitate congruence between your subconscious and your conscious minds, so you go about your actions in a way that is conducive to the achievement of your goals. You will be tapping into more of your natural abilities through your right brain and your left brain.
Sleep Learning can provide you with a short cut to learn almost anything. More importantly, it offers a way to enhance your self-development in nearly every imaginable way.
One more reason that subliminal messages for sleep learning are becoming more popular is because they are a form of mild hypnosis in which entering trance is not needed to achieve results. When using long term, these messages create important improvements to your subconscious mind and considerably improve your ability to learn. This is not to say that hypnosis does not work or is more complicated. One technique may work better for some people than others.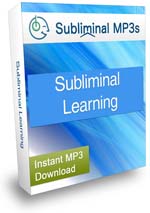 If you haven't tried sleep learning yet then the time has come. My friends at SubliminalMP3s are giving 3 FREE subliminal audio albums you can test by yourself; one for relaxation, one for learning, and one for personal development, PLUS an ebook to learn about subliminal messages in more detail.
This is the ideal taster course in subliminal audio, and you may test all 3 of these on whilst you sleep and feel the benefits for yourself. Click on the image too the right to get this free subliminal MP3 bundle…
One case that I recently heard of, is that of a student in Budapest, Hungary, who wanted to learn English quickly so he could participate and win a BBC contest. He decided to use the sleep learning technique and was able to memorize 1026 English words in six weeks during his sleep while just reviewing the information during the day. And… He won the first prize!
There are many stories like this conducted all over the world with great success. Imagine what you could do to prepare for tests, pass exams, undertake a new career, prepare your public speaking engagements and presentations, and even for fun!